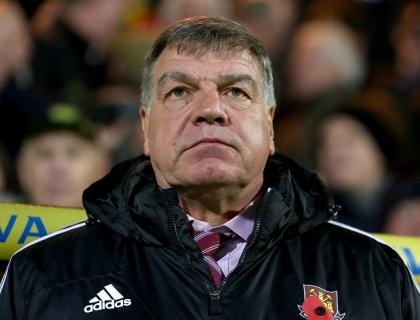 The Irons take on a Tottenham side in the quarter-final of the Capital One Cup just two days after they sacked Andre Villas-Boas, with Tim Sherwood set to take temporary control.
Allardyce feels former Spurs captain Sherwood, who was already on the coaching staff at White Hart Lane, is ready for his first steps into the often perilous, but addictive, world of football management.
"Tim is 44 years old and not been a manager, and I thought he would have challenged himself a lot sooner in management terms. Obviously for him the right position hasn't come up," said Allardyce, who has taken charge at the likes of Blackpool, Notts County, Bolton, Blackburn and Newcastle since he moved into the dugout on hanging up his boots in 1992.
"For ex-players like him and someone involved with Tottenham for quite a while, he has got a desire to be it, but the opportunity never arose where he was comfortable taking it.
"If you are in a good job, why leave it to be a manager?
"That has a bit of a crazy line in it: 'you must be crazy leaving this job to go and be a manager because you could be one of the 50 or 60 out of 92 managers who end up with the sack'.
"That is what happens every year now, so you have to be pretty good to last and man-management skills are one of the key elements."
Allardyce turned 59 earlier this year and admits football management can be "a love/hate job".
He added: "Sometimes you can sit in the chair and think 'why the hell am I doing this?', but if you are in it, then it is because it is what you do best.
"What else are you going to do?
"You can do (punditry), that is okay for a while and those who get comfortable in that life are rarely going to step out of that and come into the crazy world of management - but once you have been in it and it gets in your blood, you pine for it.
"If you lose it, you pine to get back in it and do all the things you do on a day to day basis.
"I enjoy challenging myself. I wouldn't be still here if I had not taken those challenges by the scruff of the neck and improved every football club I have ever been at."
Source: PA
Source: PA