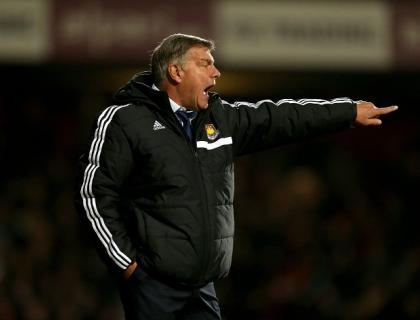 Club-record signing Carroll may have been the sort of individual who could have turned the goalless draw in Allardyce's side's favour, but the England international remains sidelined with the heel injury which has kept him out of the team since August.
West Ham's co-chairman David Sullivan suggested in an interview with Football Focus on Saturday that he would not have sanctioned a big-money move for the 24-year-old if he had been aware of how long his absence would have lasted.
But Allardyce feels his contribution while on loan from Liverpool last season meant it was a sensible deal to conclude.
"David Sullivan said that only at the end of the season will we be able to judge if Andy Carroll is a good player or not," Allardyce said.
"Understanding the size of the investment I can understand why he (Sullivan) said that.
"We have got to get Andy fit and Andy has got to do what he did for us last season. It is not his fault he is injured - we have just got to get him fit and keep him fit.
"He is the difference between us winning more games and not, he certainly was last year. If you look at our win ratio with Andy Carroll to our win ratio without him it was pretty significant and pretty obvious that we had to sign him."
It still remains unclear when the former Newcastle and Liverpool striker will be able to make his return to the first-team fold, but with a tricky festive period including a trip to Manchester United and a Boxing Day clash with league leaders Arsenal, the Hammers will be desperate for him to play sooner rather than later.
Allardyce admitted there was a little bit of nervousness creeping into his squad and that they lacked an injection of class which would have turned a timid performance into a crucial victory.
"There is a little bit too much edge in our game," he said.
"Too many simple balls going astray and not getting the sort of pressure on Sunderland we had on Fulham two weeks ago, so we ended up with a dogged affair.
"We wanted someone to find a little bit of genius for us and one of our creative players to pop up with something a little bit special but we couldn't find that today and probably the draw was a fair result."
Allardyce's Sunderland counterpart Gus Poyet believes he has finally seen a Black Cats team with his identity stamped on it as they created the better chances.
The visitors were in the ascendancy for much of the game at Upton Park, with Phil Bardsley's long-range effort coming back off the woodwork the closest either side came to finding a winner.
Steven Fletcher's goal in the 3-1 defeat at Crystal Palace on August 31 was the last time Sunderland scored away from home in the league but Poyet felt for the first time in a while that his side deserved to win a game.
"I would like to say that we didn't look like the worst team in the Premier League today but somehow it is not enough," he said.
"To be out of this situation, when you play like this you need to win and you need to score to make sure you take the three points, but in the first half it was my team. This is my team and now I need to make sure we do it week in, week out.
"There are different feelings. I'm very upset because we didn't win but for the first time proper this was my team."
Poyet was appointed Paolo Di Canio's successor at the Stadium of Light after the Italian was sacked in September and is starting to see the players adapt to his style.
"It was the way I like to play football," he said.
"It is a different way and it is not that easy when you are at the bottom to convince 25 players that we need to be brave on the ball.
"If you believe in a way of playing you are able to achieve. We did it 45 minutes here and 45 minutes there but today was the first time we didn't get what we deserved."
The draw means West Ham remain in the relegation fight with the result keeping them just one point above Crystal Palace and Fulham who, along with Sunderland, occupy the bottom three places.
Source: PA
Source: PA